Greetings, Spatialists! Our first meeting of 2021 went well. For those of you who couldn't attend, here's a quick recap.
Attendees
Courtney Menikheim
Jim Steil
Matt Hiland
Aaron Doucett
John van der Zwagg
Corey Baker
John Cartwright
Karen Clark
Dusty Reed
Haley Feather
Kathleen Clancy
Robert Winkler
Sean Gill
Steve Walker
Randall McMillen
Coco Massengill
Scott Trapolino
S. Champlin
Presentation: Benefits of Imagery Content Programs
Presented by Matt Hiland and Aaron Doucett of AppGeo
Additional Resources:
Presentation: The Micro-Region Concept
Presented by Sean Gill and Kathleen Clancy of Esri
Sharing out content from the community
Designed to be more of a forum, not just Esri sharing information
Community Calendar for events
Mississippi Micro-Region Site

Please note: Hubspot has an odd behavior where, when users try to sign in, it assumes the user is a member of the Organization that published the site. If you try to sign in, you will need to select "Not a member of this organization? Sign into your account on ArcGIS Online" at the bottom of the sign-in prompt.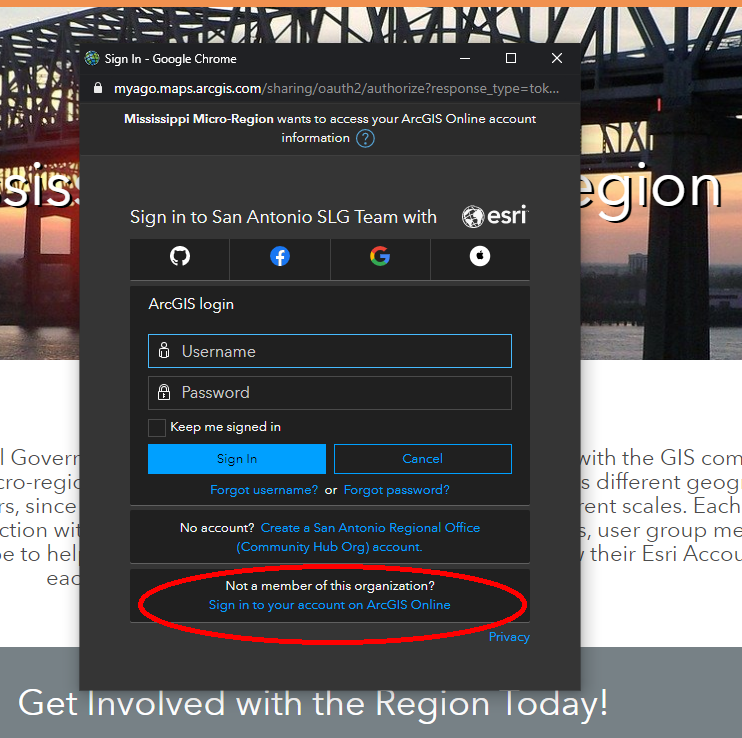 Announcements from the Board
USM Internship Program (Long Beach and Ocean Springs)
Harrison County GIS Department GIS Analyst – Coco Massengill
NG 911 will be coming soon
GIS council will meet this year
Info on the listserv
Taxes

Non-profit taxes due in March
Form E-Z requires a number of attachments and extensive filing
MAST is 501(c)(3)
Member Announcements
MARIS

Updated best available imagery service
Will send out county information packets
MDOT road centerline data
Census information is coming out, not all the data yet
Mississippi counties will be redistricting

Mississippi Atlas

Looking for maps
Team is open looking for editors, cartographers, etc
Our next general meeting will be in April. See you then!